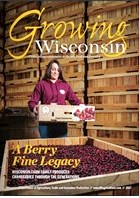 Did you know? Wisconsin leads the nation in dairy goats, it's home to 52,000 bee colonies, and cows outnumber people in some counties. We probably all know that Wisconsin is number one in the U.S. for cranberry and cheese production. Agriculture is very big business for the state, accounting for 10-12% of employment, and dairy contributing more than 43 billion dollars to the state's economy. It's no wonder we have so many celebrations of agriculture, like the Cranberry Festival in Warrens (Sept. 23-25), and Cheese Days in Monroe (going on this week, Sept. 16-18). Growing Wisconsin 2017, available in print in Andersen Library and also online as a digital magazine, is full of information about Wisconsin agriculture that is worth celebrating.
You can learn much more! The U.S. Dept. of Agriculture's National Agricultural Statistics Service and the Wisconsin Dept. of Agriculture, Trade and Consumer Protection (DATCP) are terrific sources for ag-related information, especially statistics.
But Andersen Library has resources too, including books such as The future of farming and rural life in Wisconsin: Findings, recommendations, steps to a healthy future (3rd-floor Main Collection, S129 .F88 2007 or online via the Wisconsin Academy of Sciences, Arts and Letters), Wisconsin cranberry growers: Centennial heritage book (1st-floor Special Collections, HD9259.C73 U68 1989), and Creating Dairyland: How caring for cows saved our soil, created our landscape, brought prosperity to our state, and still shapes our way of life in Wisconsin (3rd-floor Main Collection, SF232.W6 J3 2011, or online via ProQuest ebrary). Articles that can be found include "Cranberries Of Wisconsin: Analyzing the economic impact" (Journal of Business Case Studies, vol.9:no.3, pp.185-192).
If you'd like assistance with finding additional resources, please ask a librarian (choose chat or email, phone 262-472-1032, or visit the Reference Desk).
Andersen Library is a federal and Wisconsin depository library with federal and state government documents on a variety of current and relevant issues available to you in various formats (print, DVD/CD-ROM, online). Check out your government at Andersen Library!