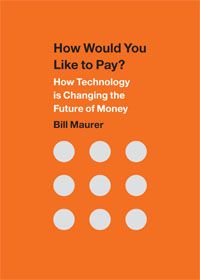 How Would You Like To Pay?:
How Technology is Changing the Future of Money
by Bill Maurer
HG 1710 .M38 2015
New Arrivals Island, 2nd floor
In Bill Maurer's latest work, he explores the emerging and rapidly growing of online and mobile banking options. The book begins with a brief history of money in its physical forms over the centuries. While the growth of mobile banking provides flexibility and convenience to many in the first world, it is a transformative process for others. Anyone with a mobile device is capable of doing online banking allowing millions of people to enter the banking system for the first time. With any great change in a societal norm, this book also addresses many of the creative new ways people are using movie and addresses accessibility issues to using these new methods. Maurer's book serves as a general overview of this topic and contains many images of "money in action." It can be covered in one sitting if a reader is diligent.
Bill Maurer has written other books on money and banking. Other titles available through Andersen Library include Mutual Life, limited Islamic banking, alternative currencies lateral reasons.