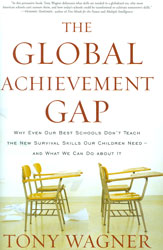 The Global Achievement Gap:
Why Even Our Best Schools Don't Teach the New Survival Skills Our Children Need – and What We Can Do About It
By Tony Wagner
LB1607.5 .W34 2008
New Book Island, 2nd floor
Are students in the U.S. graduating from high school with the skills and problem solving abilities to compete in a global economy? In this book, Tony Wagner outlines his concerns with the way children are being educated in U.S. schools today and how educators, parents, and employers can work to improve the education system.
Wagner was a high school teacher, principal, university president, and now is co-director of the Change Leadership Group at the Harvard Graduate School of Education. Wagner believes that education has changed little in 50 years, and that students graduating from most American schools lack the "Seven Survival Skills for the twenty-first century." Wagner provides suggestions for improving student assessment, how teacher and administrator preparation programs can be made more effective, and why student motivation is such an important component in improving education.