Please note that live Jazz in the Library today has been cancelled. We apologize for any disappointment!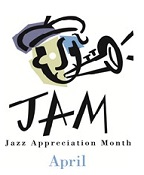 April is Jazz Appreciation Month (JAM), and you can celebrate by joining us for some jazz in Andersen Library on Friday, April 29th, from 3pm-4:30pm by the big screen tv on the main floor! The music will be provided by students and sponsored by the collegiate chapter of the Jazz Education Network, an organization that "is dedicated to building the jazz arts community by advancing education, promoting performance, and developing new audiences."
If you want to listen to jazz, Andersen Library can help! We provide access to a streaming Jazz Music Library database that includes thousands of jazz artists, ensembles, albums and genres from renowned jazz artists, performances and record labels. We have jazz recordings in the 2nd-floor CD collections, including recordings such as The Smithsonian collection of classic jazz (2nd-floor CD – Academic, M1366 .S542 1987), Satch plays Fats by Louis Armstrong (2nd-floor Browsing Collection CD, JAZ Wal Sat), Forty years of women in jazz (2nd-floor Browsing Collection CD, JAZI For), and Boss bones by Wycliffe Gordon (2nd-floor Browsing Collection CD, JAZI Gor Bos).
Enjoy!