UW-Whitewater offers several Earth Week (April 18-22, 2016) events, including these:
The documentary This changes everything will be shown on Mon, Apr 18, from 5-7pm in Summers Auditorium (UC). If you miss it, Andersen Library has the book by Naomi Klein This changes everything: Capitalism vs. the climate (2nd-floor New Arrivals Island, HC79.E5 K56 2014).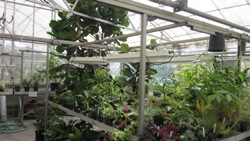 I've taken a tour of the greenhouse, so I can highly recommend it. The tour is available on Mon, Apr 18, starting at 6pm at the back entrance to Upham Hall, or on Tues, Apr 19, noon-1:30pm meeting at the greenhouse attached to Upham Hall (also included: the campus garden and information for prospective volunteers).
Teach-in on water resources issues, both global and here in Wisconsin, organized by SAGE (Students Allied for a Green Earth) on Tues, Apr 19, from 6-7:30pm in Upham 141.
The last Contemporary Issues Lecture will be delivered at 7pm on Wed Apr 20 (Young Auditorium) by Elizabeth Kolbert, journalist and author of The Sixth Extinction: An unnatural history, for which she won the 2015 Pulitzer Prize for general nonfiction. Andersen Library has a copy of The Sixth Extinction (3rd-floor Main Collection, QE721.2.E97 K65 2014), and UWW students and staff may request copies from other UW campus libraries via the free UW Request service (requested items arrive in 2-5 weekdays). The title link above will provide a preview via Google Books.
Fri, Apr 22 (Earth Day) features the opportunity to help plant fruit trees in the campus garden, weather permitting. Meet at the campus garden near the Ambrose Health Center at 10am.
And much more! Please visit the Earth Week web page for a full listing of events. There is a lot to choose from!
As always, please ask a librarian (visit the Reference Desk, call 262.472.1032, or choose to email or chat) for assistance with finding additional materials.