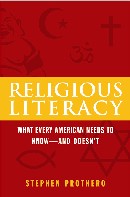 Stephen Prothero, chair of Boston University's Department of Religion, will speak on Wed., Feb. 13, 2008 at 7 p.m. in the Young Auditorium. More information about the author (and a link to his religious literacy quiz) is available from the Stephen Prothero web site.
UWW students, faculty, and staff may borrow Mr. Prothero's book Religious Literacy: What Every American Needs to Know–And Doesn't (winner of a Quill Award in October 2007) from other UW campus libraries using the free Universal Borrowing service. Once requested, the book would arrive in 2-4 weekdays.

Articles written by Mr. Protero can be found in University Library databases. For example, in EBSCOhost's Academic Search Premier database, search for au prothero, stephen.
I found his 2007 article "Worshiping in Ignorance" in the Chronicle of Higher Education especially interesting. Here's an excerpt:
"Today religious illiteracy is at least as pervasive as cultural illiteracy, and certainly more dangerous. Religious illiteracy is more dangerous because religion is the most volatile constituent of culture. Religion has been, in addition to one of the greatest forces for good in world history, one of the greatest forces for evil."
This is the first spring semester lecture in the College of Letters and Sciences Contemporary Issues Lecture Series.