Did you notice little children and stuffed animals in the library this past weekend? Us too! Twenty-nine children from ages 11-months to 7-years visited Andersen Library on April 8, 2016 to participate in the library's fourth Annual Stuffed Animal Sleepover and celebrate the Week of the Young Child, along with the Children's Center. The children, from the families of UW-Whitewater students, staff, faculty, and the Children's Center, participated in a library story time and song activity.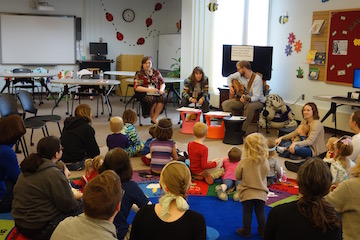 The theme of this year's event was a masquerade party. Parents and grandparents helped the kids create name tags for their stuffed animals, and color masks for the kids and their animals. Once their masks were in place, the children joined in singing a couple songs, including Cow Parked in My Driveway, and enjoyed story time.
Before heading home, the children tucked their stuffed animals into bed in a dark group study room. Do you think they stayed in bed? Not a chance!  The stuffed animals stayed up all night exploring the library after hours and taking photos in the photo booths set up for them. The event volunteers created laminated photo memories of the children's animals, which the children kept as mementos.
A big thank you to the volunteers that helped make the event a success!  We are so grateful for community member volunteers, staff members volunteers, and many student workers and staff members involved behind the scenes. Two students from the College of Education and Professional Studies assisted in leading the 3-6 year old story times, and one of the students stayed late to assist in completing the photo memories for the kids.  We couldn't have done it without you all.
Curious about what was read during story time? Here's a list! Check them out and read your favorites again at home.
Bigger Kids: Where's Walrus, Secret Pizza Party, When the Library Lights Go Out, Thank You and Good Night .
Infants: Froodle, Wiggle, Waddle Waddle Quack Quack Quack, Blankie, Time for Bed.