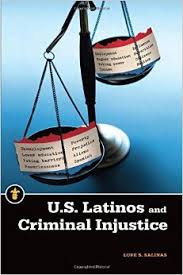 U.S. Latinos and Criminal Injustice
by Lupe S. Salinas
KF4757.5.L38 S35 2015
New Arrivals, 2nd floor
As of July 2014, Latinos made up roughly 17.4% of the U.S. population and growing. While Latinos do make up the largest group of non-whites in the United States, the history of Latinos like many other minority groups in America is fraught with struggles. Lupe Salinas, a retired judge unpacks the history where latinos and the criminal justice system in the United states intersect with each other. Salinas begins the book with background information about the general history of racism faced by latinos in the United States. The second and third section of the book focus on law enforcement issues and courtroom/trial issues facing Latinos. This book at its heart is a story about oppression. Salinas does a great job of explaining how unfairly many in the Latino community have been treated by the criminal justice system from language barriers in the court room to racial profiling in immigration law enforcement.
Interested in more about Latinos? Check our Pew Research Center's Hispanic Trends website.