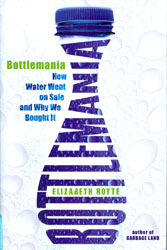 Bottlemania:
How Water Went on Sale and Why We Bought It
By Elizabeth Royte
HD9349 .M542 R69 2008
New Book Island, 2nd floor
Happy St. Patrick's Day! While the topic of this week's featured title does center on drinking, it does not focus on the green variety of liquid that people (of legal age) are consuming as we speak. No, this liquid constitutes 60% of your body mass and its popularity is second to only soda as the leading beverage. That means it could only be… water.
Royte, a journalist that has written for the New Yorker and National Geographic (among others), takes a hard look at the bottled water phenomenon and the stakeholders of the industry. It explores not only the obvious environmental impact from the billions of plastic bottles, but also the financial implications of corporations bottling and selling a diminishing natural resource. Who owns the water and is it just that the companies profit from this? All in all, reading this will make you think twice the next time you reach for the dollar and a quarter to purchase some Aquafina.
FYI – Royte's previous book, Garbage Land, is also available in the Main Collection – HD4484.N7 R68 2005.