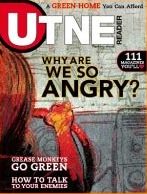 Last semester I blogged about the value of reading a daily newspaper. That'll get you the mainstream perspective on things. I also recommend reading Utne (previously Utne Reader), which is like a Reader's Digest of "alternative" (non-mainstream) and independent press, meaning it collects, summarizes, synthesizes, cites and sometimes reprints material selected as the best from other publications. Although its mission is to provide "the best of the alternative press," there are original Utne articles also. I think of it as a timesaver, kind of like getting a discussion list in digest mode. I'm interested in perspectives and issues that may not hit my radar otherwise, but let the Utne staff sift through 1,500 publications and just lead me to the top-drawer stuff–and give it to me succinctly please!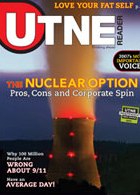 The bimonthly Utne issues are available in the Library's 1st-floor Periodicals Collection. Sorry, no full text articles online in the Library's databases, but you can scan the table of contents or search for topics using the online database Academic Search Premier: Click on "Publications" and in the "Browse Publications" box search for utne. A list of years will appear. Pick a year and the issues for that year will appear. Select an issue and the list of articles in that issue will display.
Topics of articles in each issue are all over the map, from the arts and media to science and politics, so there's something for everyone. Each issue also has a featured topic, e.g., the March/April 2005 issue's featured topic was "The Future of God" and July/August 2007 was "The Ugly Americans: What Will It Take to Win Back the World's Trust?"
Examples of articles in recent issues:
The dark side of soy – is America's favorite health food making us sick? (July/August 2007)
Redeeming America – what it will take to win back the world (July/August 2007)
Vikings with amps – Norse mythology meets power chords in Tyr's mighty music (July/August 2007)
Shuck and jive – how industry and politicians are harvesting ethanol for all it's worth (May/June 2007)
Our furry, feeling friends – the difference between animals and humans isn't as big as people think (May/June 2007)
Midwifery's renaissance (March/April 2007)
Putting a stop to slave labor – a moral solution to illegal immigration (March/April 2007)
Cairo's man show – in Egypt, public male-on-male affection isn't queer, it's commonplace (March/April 2007)
Grief goes online – the boon and bane of virtual bereavement (March/April 2007)
Playing with our heads – why video games are making our kids smarter and more obedient (January/February 2007)
Steeped in tea – the social significance of one hot drink (January/February 2007)
The Utne.com web site offers fare similar to its print articles, including enewsletter/blog categories Arts, Environment, Great Writing, Media, Politics, Science and Technology, and Spirituality. You can add your own replies and sign up to have new entries sent to your email.