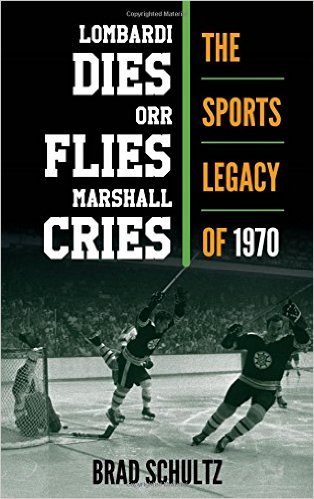 Lombardi Dies, Orr Flies, Marshall Cries:
The Sports Legacy of 1970
by Brad Schultz
GV583 .S38 2016
New Arrivals, 2nd floor
With this solidly researched work, veteran sports journalist Brad Schultz deftly weaves together sports history, political history, and social issues, appealing to readers of wide interests. He identifies 1970 as a defining year in sports, including stories such as Vince Lombardi's death; Bobby Orr's Stanley Cup winning goal; and the tragic plane crash that killed 36 of the Marshall football team along with coaching staff and boosters. He provides the details in its historical and social context for each event. Organized chronologically, a chapter for each month, Schultz highlights a wide variety of sports events and themes. He discusses Jerry Smith, the first openly gay retired NFL player. While Smith achieved career numbers that compare favorably to players who have made the Pro Football Hall of Fame, Schultz wonders what life would have been like if he had come out during his NFL days. Even the debate over hair length and facial hair earns attention. Fueled by the 1960's counterculture movements and rebellious college and professional athletes, the notion that athletes with short hair were somehow more disciplined and would win more championships fades when teams with the likes of fumanchu-sporting Joe Namath prove as capable as their clean cut competitors.
Some stories tell as much about the spectators as the athletes. 65-year-old Karl Wallenda's tight wire walk across the Tallulah Falls in Georgia, is watched by 35,000 paying spectators. The South African golfer, Gary Player, endured constant heckling for the country he represented, and endured harassment long after calling for the Masters to open up to blacks and taking quiet action to support equal access to professional competition. Brazil's 1970 World Cup performance with Pel at the head of the class, and his subsequent work with the NY Cosmos while it may not have had a lasting impact on professional soccer and its spectatorship in the United States, but Schultz contends that it did inspire a new generation of kids to play the game. Schultz' successfully makes this an engaging read for those interested in overarching themes of the time period and for sports readers alike.