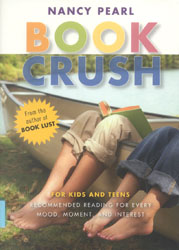 Book Crush:
For Kids and Teens
Recommended Reading for Every Mood, Moment and Interest
by Nancy Pearl
Z1037 .P35 2007
New Book Island, 2nd floor
Have you ever been so into a book that you couldn't put it down? Maybe so into the book's characters that you had a little crush on one of them? It may not have happened recently (unless you're a Harry Potter fan), but maybe when you were younger. I read a lot as a kid, and today's featured book brings back some memories.
Nancy Pearl, a rock star in the library world (seriously, she has her own action figure), has written a follow-up to her popular Book Lust aimed at younger readers that haven't found out about 'lust' yet but are still in the 'crush' phase. Pearl recommends over a thousand books for children and teens, grouped into 118 lists to strike their fancy, whatever they're into at the moment.
Who could use this book? This would be great for our budding teachers for putting together lesson plans or classroom displays. Parents with children under 18 would also find this useful to try to engage their youngster in the wonderful world of reading.