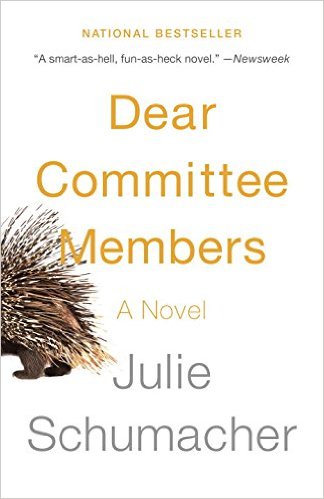 Dear Committee Members
by Julie Schumacher
PS3569.C5548 D34 2014
New Arrivals, 2nd floor
Dear Blog Readers,
I write to highly recommend this novel, Dear Committee Members, for inclusion in your Fall 2015 program entitled "Books to Read." This brilliant satire of the modern university is the funniest book I have read in recent memory and would clearly make an outstanding addition to your nightstand, coffee table, or favorite comfy chair. The novel's unconventional form (it consists entirely of letters of recommendation from a crusty, tenured professor of Creative Writing) ensures that it will bring diversity to your reading life and broaden your horizons. It is one of the best academic satires I have had the pleasure to read and reveals many all too humorous truths about the state of the humanities, campus life, and academic politics.
In closing, I am sure that Dear Committee Members will brighten your day and it is my pleasure to be able to recommend it to you.
Sincerely,
Diana Shull
Reference & Instructional Technology Librarian
Andersen Library