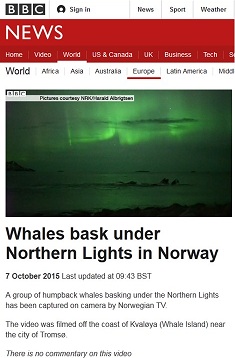 I couldn't resist blogging about this, I guess, because it was such a beautiful image on the news earlier this week: whales swimming under the northern lights, an image captured by a Norwegian TV station.
Click the screenshot, and then I recommend going to full screen display of the video. It's lovely. Enjoy.
Learn more about whales, the northern lights, and even the benefits of experiencing nature, from resources available via Andersen Library, e.g., the book In the light of the aurora published by the Nordic Council of Ministers as an introduction to auroral research (online via ebrary), in which you can learn that "[n]orthernmost Europe has the highest density anywhere in the world of research institutions at which scientists actually live under the aurora."
Please ask a librarian (chat or email, phone 262.472.1032, or visit the Reference Desk) for help with finding materials.