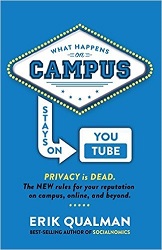 What Happens on Campus Stays on YouTube
by Erik Qualman.
HM851 .Q35 2015
New Arrivals, 2nd floor
(From the cover) Privacy is dead. The NEW rules for your reputation on campus, online, and beyond.
Erik Qualman, author of What Happens in Vegas Stays on YouTube and Socialnomics, brings his advice to college students. He describes manageable ways for students to be the creators of their digital reputations. And never fear; technology avoidance and deleting every social media account are not in his playbook.
The 36 rules he describes are rules as in "rules of thumb" rather than commandments, for example:
Rule 15: Words: Measure Twice, Post Once
Rule 20: It's Not the Crime, But the Cover-up
Rule 22: Face-2-Face Cannot be Replaced
Written with the busy student in mind, Qualman illustrates each rule with a few points and provides brief examples found in the news and on social media sites. While some are cautionary (see  NCAA formally charges Jim Tressel with lies, coverup of OSU violations), many are inspirational (see Teen creates viral campaign to stop cyberbullies).
Academic counselors and educators will also find this book timely and useful.