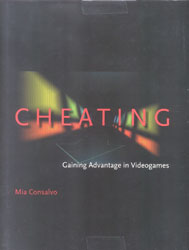 Cheating:
Gaining Advantage in Videogames
by Mia Consalvo
GV1469.34 .C67 C66 2007
New Book Island, 2nd floor
When you see the word cheating on a book in an academic library, you probably think of crib sheets, secret signals during exams, or plagiarism. In this case, we're talking about cheating in the digital environment – videogames.
Consalvo, associate professor of telecommunications at Ohio University, examines the cultural history of cheating in the context of videogames and the birth and expansion of an industry catering to gamers' willingness to 'beat the game.' Her introduction uses a situation which perfectly exemplifies why some people cheat and others don't: knowing about a gift before opening it. In her opinion, it takes the surprise and excitement away from receiving the present. She goes on to explore how players define cheating and the gaming community's feelings and reactions to said devious actions. The author contends that the way in which we use videogames reflects ethics in other areas of life, not just the digital world.