A screening of the documentary Underwater dreams on Tues., Sept. 22, at 3:30pm in UC 275A opens the Latino Heritage Lecture Series for 2015-16!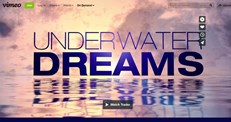 Enjoy the story of Title I high school students, sons of undocumented Mexican immigrants, building a robot that defeats the efforts of a team from MIT in an underwater robotics competition sponsored by NASA and the Office of Naval Research. You can view the documentary's trailer on Vimeo.
Andersen Library has related resources! Search Library databases to find articles such as "Pathways to achievement: How low‐income Mexican‐origin parents promote their adolescents through school" (Family Relations, 2012, vol.61:no.4, pp.533-547) and "Science fair mentoring for middle and high school students: A pathway across the STEM achievement gap for underrepresented students" (Abstracts with Programs – Geological Society of America, 2013, vol.45:no.7, p.654), and books such as Robotics (3rd-floor Main Collection, TJ211 .R556 2010). The story also was made into a feature film called Spare parts, which can be borrowed from another UW campus by UWW students and staff via the free UW Request feature of Research@UWW.
Please ask a librarian (via email, chat, phone 262.472.1032 or visit the Reference Desk) for assistance with finding materials.
Andersen Library is a federal and Wisconsin depository library with federal and state government documents on a variety of current and relevant issues available to you in various formats (print, DVD/CD-ROM, online). Check out your government at Andersen Library!