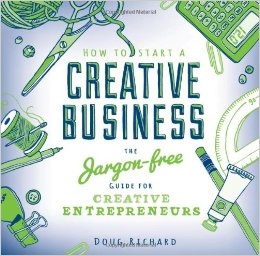 How to Start a Creative Business:
The Jargon-Free Guide for Creative Entrepreneurs
by Doug Richard
HD62.5 .R532 2013
New Arrivals, 2nd floor
There is a misconception that you can't have a creative mind and a business mind. It's one or the other. Doug Richard, an entrepreneur and two season "dragon" on the UK show Dragons' Den, aims to disprove this idea by providing everyone with the skills necessary to build a successful business. The book is full of Startup Stories from creative individuals who have started their own businesses as well as Get Your Hands Dirty suggestions intended to outline some of the tasks an entrepreneur must undertake to be successful. Another nice feature of the book is the Jargon Busters; if you're not a business person, don't be afraid to check this book out. Richard explains all the business concepts in easy-to-understand language.
If you've considered launching a creative business, check out this book and get started! Or, check out some of these other resources available at Andersen Library: