It's Friday, classes haven't started yet and you need a break from all the scurrying around getting ready. Let's look for some random useful websites! Forget the targeted searching, open your mind and expand your horizons. Sometimes unplanned experiences are real delights.
Random Useful Websites will take you to many unexpected sites, things you'd not likely be trying to find but that just may become favorites! Just click "Let's Go!" You can even get random useful sites sent to your email every week. Just remember to get back to work at some point.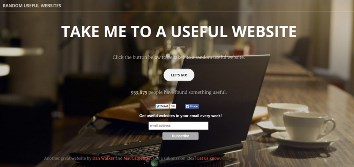 On my first session I was taken to
Enjoy!
P.S. This reminds me of The Secret Door, that randomly takes you to images of places all over Earth.