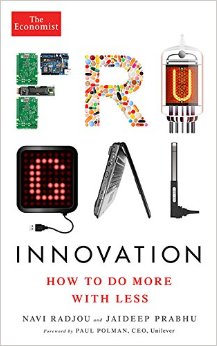 Frugal Innovation:
How To Do More With Less
by Navi Radjou and Jaideep Prabhu
HD45 .R245 2014
New Arrivals Island, 2nd floor
Businesses today must make the most of limited time and budgets, getting high quality, sustainable, and innovative products to consumers as quickly as possible. Radjou and Prabhu, fellow and professor at the University of Cambridge, respectively, explain how companies can embrace mass customization, rely on consumers to help develop products, create a more frugal corporate culture, and more. The book also contains seven case studies of frugal innovation in action at companies like Unilever and Simple Bank. Whether you're interested in frugal innovation at the corporate level or for your Etsy shop, this is a great read to check out!
Navi Radjou recently did a TED talk on the topic of frugal innovation which you can watch below.