Swethaa Ballakrishnen, a research fellow at the Harvard Law School and an expert on international law, will speak on opportunities and pitfalls of doing business in India on Thursday, March 5th, at noon in the University Center, room 69.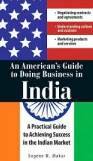 If you are interested in this topic, or interested in doing business in other countries, your University's Library has resources you could consult. A Library Catalog search would find titles such as An American's guide to doing business in India: a practical guide to achieving success in the Indian market (3rd-floor Main Collection, HD2899 .M345 2008). A search of the Library's article databases for business such as ABI/Inform Global would find articles such as "The Rise Of Indian Manufacturing" in Industry Week (Dec. 2008, vol. 257, no. 12).
Please ask a librarian if you would like assistance in finding materials on on doing business in other countries.