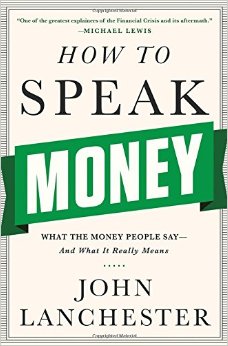 How to Speak Money:
What the Money People Say – And What It Really Means
by John Lanchester
PR6023.A66 Z54 2014
New Arrivals Island, 2nd floor
Anyone who has taken a finance or economics class or regularly listens to NPR's Planet Money knows that "money people" have their own language. John Lanchester demystifies this language for the less financially inclined in this book. Find short descriptions of common money terms like zombie bank, bear market, and laffer curve in easy to understand language. Key people in finance and economics are included as well.
This book would serve as an excellent resource for students taking business classes or anyone interested in learning a little bit more about Wall Street and the economy.