Dr. Tharaphi Than, Asst. Professor of Foreign Languages & Literatures at Northern Illinois University and author of the book Women in Modern Burma, will talk about "Burmese women: Forgotten people in the making of Burma's history" on Thurs., Mar. 5, 3:30-4:30pm in UC275A. It's part of the Southeast Asian Heritage Lecture series.
Dr. Than's book may be requested from UW-Madison by UWW students and staff via the free Universal Borrowing service, and portions of it may be previewed via Google Books.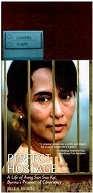 Andersen Library offers additional resources, including Refiguring women, colonialism, and modernity in Burma (3rd-floor Main Collection, HQ1735.7 .I54 2011), Perfect hostage: A life of Aung San Suu Kyi, Burma's prisoner of conscience (3rd-floor Main Collection, DS530.53.A85 W58 2007), and Burma/Myanmar: What everyone needs to know ((3rd-floor Main Collection, JQ751.A58 S84 2010).
Please ask a librarian for assistance with finding additional materials.