Cathi Tactaquin, Executive Director and co-founder of National Network for Immigrant and Refugee Rights, will talk about "The effects of immigration policy and attitudes on women and families" on Wed., Oct. 29, 11am-12:15pm in UC275. It's part of the Women & Gender Cultural Series.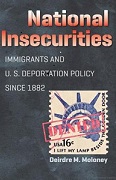 You can learn more by searching Library databases to find resources such as "DREAMers and their families: A family impact analysis of the DREAM Act and implications for family well-being (Journal of Family Studies, 2014, vol.20:no.1, pp.79-87, doi:10.5172/jfs.2014.20.1.79), How comprehensive immigration reform should address the needs of women and families: Hearing before the Committee on the Judiciary, United States Senate (online or 2nd-floor Federal Documents Y 4.J 89/2:S.HRG.113-45), Immigration and women: Understanding the American experience (ebook), "Do attitudes about immigration predict willingness to admit individual immigrants?" (Public Opinion Quarterly, 2013, vol.77:no.3, pp.641-665, doi:10.1093/poq/nft024), and National insecurities: Immigrants and U.S. deportation policy since 1882 (3rd-floor Main Collection, JV6483 .M645 2012).
Please ask a librarian if you'd appreciate assistance with finding additional materials.
Andersen Library is a federal and Wisconsin depository library with federal and state government documents on a variety of current and relevant issues available to you in various formats (print, DVD/CD-ROM, online). Check out your government at Andersen Library!