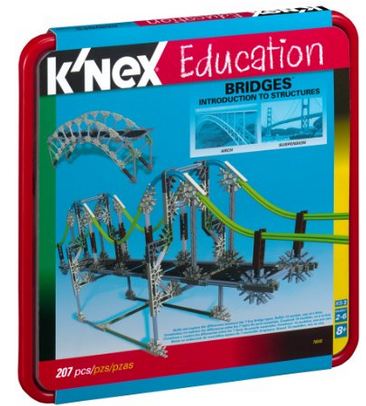 Bridges:
Introduction to Structures
by K'NEX Education
TH165 .B6 2013
Teaching Tools, Curriculum Collection, 2nd floor
Are you looking for resources to use in your lesson planning for teaching STEM (Science, Technology, Engineering, & Math) concepts?
Do you feel inspired to reconnect with your Lego or Lincoln Log past?
If you answered yes! to either A or B, then don't overlook new stuff in the Teaching Tools collection which is located on the 2nd floor of Andersen Library.
One of the most recent additions is the K'NEX Education Introduction to Structures: Bridges set. The set includes building instructions, enough parts to build 13 fully-functioning replicas of real-world structures, and a teacher's guide aligned to national education standards and Common Core Mathematics. Other useful tools for addressing similar concepts, also available in the collection, are GoldieBlox. If you are looking for more kits to introduce students to design, geometry, and strength of bridges and other structures, browse the Teaching Tools collection online  or visit the Children's Collections area.