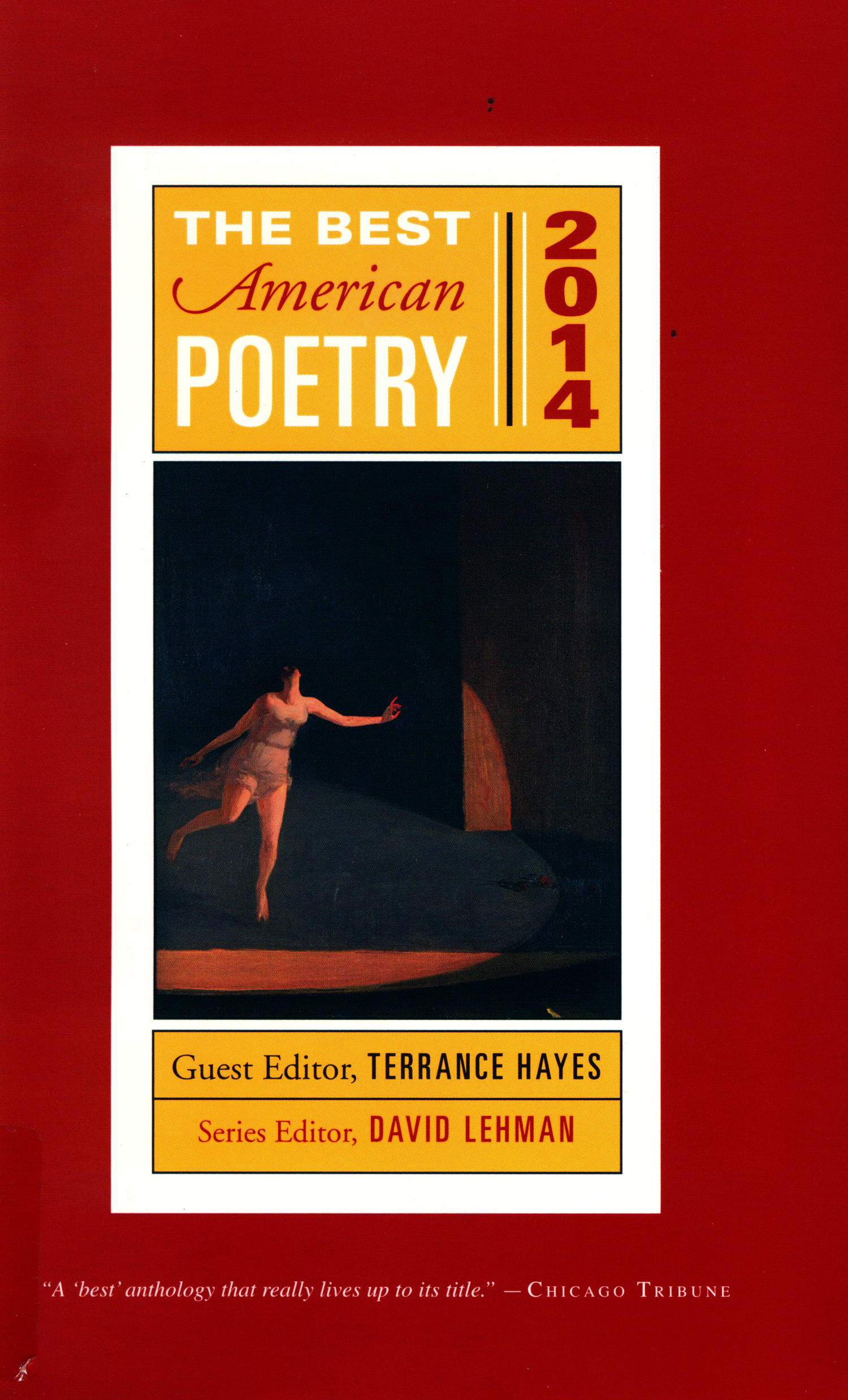 The Best American Poetry:
2014
Guest editor Terrance Hayes
Series editor David Lehman
PS615 .B474 2014
New Arrivals, 2nd floor
Every year since 1988 the fine folks at Scribner Poetry have come out with a new volume containing the cream of the year's poetry crop. This year the guest editor is Terrance Hayes, so they are his knowledgeable opinions that shape the volume. Hayes has authored four collections of poems, all receiving high accolades and/or awards. Here he has selected a wide ranging collection of other people's poetry representing the vast diversity of American culture. The A-Z of authors includes Sherman Alexie, Kwame Dawes, Rita Dove, Ray Gonzalez, Sharon Olds, Rachel Zucker, and many more. If you'd like to see the full list of who's poetry is this volume, you can check Amazon.
David Lehman, the series editor, challenges us in his introduction to consider these questions about poetry: "is it dead, does it matter, is there too much of it, does anyone anywhere buy books of poetry?" He points out that the demise of poetry has been forecast for decades, and at Ivy League schools English majors are fading into the woodwork, being replaced by other majors such as those in the sciences. Who is to write poetry? Lucky for us Terrance Hayes found some wonderful practitioners, from the tried and true to the new on the scene. From the outset of his unusual interview as introduction, Hayes sets the tone for what is to come, both playful and serious. He includes three of his original "centos," that meld lines from the poems in the anthology into one new poem and reflect major themes of the volume. These are created in place of explaining the recurring themes, so are worth reading (don't skip the intro!).
I wish I were more of a poetry aficionado, so could draw you in by offering up witty and insightful comments about some poems in the collection. That's not going to happen. There are, however, brief paragraph or so long sections on each poet at the back of the book, often including enlightening tidbits about their poem. Definitely peruse those too. If you read the poems collected here and would like to offer us your comments, you are certainly welcome to do so below.