Lots of us go to the Merriam-Webster.com site to get definitions, but there are some word games there, too!
When you complete a quiz you'll be able to compare your score to the average score overall, or the average score for your age group.
How's your vocabulary? Take the 10-question quiz.
Try Spell It: The commonly misspelled words quiz.
Play Name That Thing, a visual vocabulary quiz.
And see how well you do on a true/false "quick quiz about stuff worth knowing."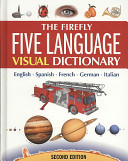 And if the visual vocabulary quiz sparks your interest, Andersen Library has visual dictionaries you can use to create your own quizzes, or just to learn more! Search Research@UWW (Books Media and more UW Whitewater) to find title such as Merriam-Webster's Spanish-English visual dictionary (Reference Collection, 2nd Floor, PC4629 .M47 2011), Merriam-Webster's visual dictionary (Curriculum Collection, Textbook, 2nd Floor PE1629.M47 M4 2010), and The Firefly five language visual dictionary (Reference Collection, 2nd Floor, P361 .C668 2004). There's also Merriam-Webster's Visual Dictionary Online to try!
Enjoy.