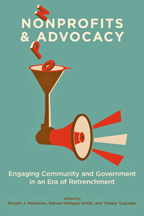 Nonprofits & Advocacy:
Engaging Community and Government in an Era of Retrenchment
edited by Robert J. Pekkanen, Steven Rathgeb Smith, and Yutaka Tsujinaka
HD62.6 .N693 2014
New Arrivals, 2nd floor
Nonprofits are organizations that are tax-exempt, provide a public benefit, and further a greater cause in some way. As the name suggests, they do not attempt to earn a profit from any products sold or services rendered. Instead, they raise money through fundraising, donations, etc. A few examples include the Humane Society, United Way, and National Public Radio (NPR).
People often question whether or not nonprofits should engage in advocacy, that is whether or not they should attempt to affect public policy. This book, written by a variety of scholars, discusses nonprofit advocacy in local and national settings, as well as advocacy strategies for nonprofit organizations. The book is packed with data, and will be an interesting read for anyone looking to work in the nonprofit sector.