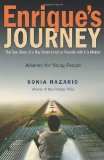 Enrique's Journey:
The True Story of a Boy Determined to Reunite with His Mother
by Sonia Nazario
921 Enr
Curriculum Collection, Juv Non-Fiction, 2nd floor
Based on the Los Angeles Times newspaper series that won two Pulitzer Prizes, Enrique's Story has been adapted for young readers. Sonia Nazario has made a topic of current national debate accessible to readers, grades 7 and up. Educator resources geared toward middle and high school classes provide guides and suggested activities for leading meaningful discussions around both family relationships and immigration. To address the lively national debate and account for immigration data since first published in 2007, Nazario has authored a new epilogue and afterword which includes recent census data, polls, and studies, such as those conducted by the National Conference of State Legislatures for the ongoing Immigrant Policy Project, as well as reports and data collected by the Pew Research Hispanic Trends Project.
University readers may wish to check out the original, 2007, Enrique's Journey from the UW Whitewater Main Collection, 3rd Floor  (E184.H66 N397 2007)
If Enrique's Story sparks interest in the effects of emigration and immigration on family relationships throughout history, continue your research in Research@UWW.