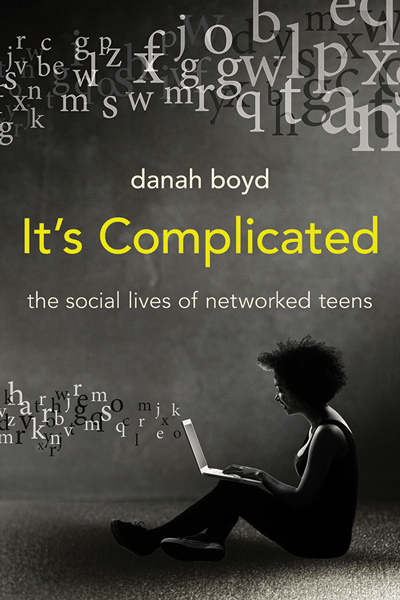 It's Complicated:
The Social Lives of Networked Teens
by danah boyd
HQ799.2.I5 B68 2014
New Arrivals, 2nd floor
Chill out. That is the message danah boyd wants to give to parents, teachers and other adults concerning teens' use of social media. boyd does research and writes extensively about the relationship of youth and technology, especially social media. In her view, teens live very structured lives with not much freedom to just hang out with friends and sites like Facebook and Twitter offer that casual meeting space that used to be found at the mall. She does address some of the most stressful issues such as cyberbullying and sexual predators but she doesn't see them as prevalent as the media has made them out to be. Her research combines traditional studies and extensive interviews with high school and middle school youth.
If you're interested in this topic, you might also enjoy Young and the Digital: What the Migration to Social-Network Sites, Games, and Anytime, Anywhere Media Means for Our Future, by S. Craig Watkins. This book can be found in the Main Collection (3rd floor) at HQ799.2.M352 W37 2009.
This post was written by Vicky Topp.