How do you determine whether you can access the full text of a particular article in a journal, magazine, or newspaper? Use the Journal Holdings list!!
On the Library Home page, there are several ways to get into the Journal list. Under "Find," click "Journals" or "Journal Holdings." Enter the title of the publication (not the article). For example, if this is your citation, search for Organization Studies:
Title: The Stretch of Strategic Management Discourse: A Critical Analysis
Source: Organization studies [0170-8406] Greckhamer yr:2010 vol:31 iss:7 pg:841 -871
This should be what you see as a result: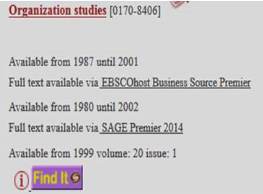 What does this mean?
Note the dates appearing below each link to a database. If your article was published between 1980 and 2002 you can get the full text if you click the link to Business Source Premier. But our example citation is for an article published in 2010. Good news! We should be able to get the full text by clicking the link to SAGE instead.
When you click the link to a database, if you are off campus you may be prompted to login with your UWW Net-ID (same as your D2L or campus email login).
What if an article's year isn't available from any database? Or if no database links are given?
Click the purple Find It button to see some other options, like submitting an "ILLiad" interlibrary loan request to have another library scan the article for you, which costs $1 and usually takes 2-4 weekdays. More information about this service is online.
Still have some questions? Contact Reference.