So I'm just getting around to reading last week's Royal Purple and I see that there is a film being shown every Wednesday for the next three weeks (it started Feb. 4) in honor of Black History Month. The movies start at 6:30 p.m. in the UC Summers Auditorium. Here's the line-up:

If you missed Malcolm X (like I did), the University Library has it in VHS format (Browsing VHS, 2nd floor, PN1997 .M348 1993). Spike Lee directed and Denzel Washington starred in it, so you know you can't go wrong. University Library also has the book on which the film is based, The autobiography of Malcolm X (3rd-floor Main Collection, E185.97 .L5 A3).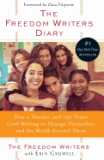 If you miss Freedom Writers you can get that from the University Library too (2nd-floor Browsing DVD, Feature Film, Fre). That's based on the book The Freedom Writers diary: how a teacher and 150 teens used writing to change themselves and the world around them (3rd-floor Main Collection, HQ796 .F76355 2001).
The other two films in the series are not part of UWW's video collection, but may be available to UWW students and staff from other UW libraries by using the free Universal Borrowing service. Requested materials arrive in 2-4 weekdays.