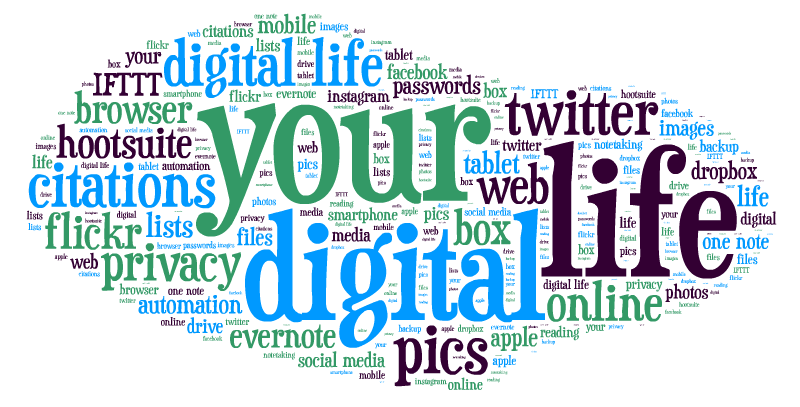 Starting next week and continuing through the summer, Tech Tips Thursday (T3) will focus on the theme of Your Digital Life. The summer is a great time to evaluate how, when, and where to create, find, store, manage, and publish information and media in a digital environment. This includes everything from the best place to store photos online to how to keep track of your Twitter account notifications. This 8-part, bi-weekly series will cover the following topics:
Passwords: Manage your passwords and keep them secure
Storage Space: Store and backup your digital files and archives
Social Media: Manage your accounts and maintain your desired level of privacy
Photos & Media: Share, manage, and store photos and other media
Notetaking: Capture information on the fly
Reading & Citation Management: Find and cite what you read both online and in hardcopy
Automation: Harness the power of websites and apps to automatically complete tasks
Optimize the Web: Make your web experience better using browser extensions, apps, and settings
If you want to keep track of this series, you can bookmark this post to see each post in the series as it appears, subscribe to the blog feed (http://blogs.uww.edu/library/feed) via a feed reader (examples: The Old Reader, Reeder, Feedly), or you can subscribe via your email (subscribe via Microsoft's Outlook email program).