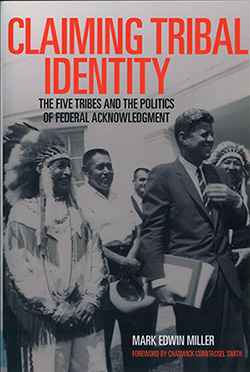 Claiming Tribal Identity:
The Five Tribes and the Politics of Federal Acknowledgment
By Mark Edwin Miller
E78.O45 M56 2013
New Arrivals, 2nd floor
The Office of Federal Acknowledgment is charged with establishing that an American Indian group exists as a federally recognized Indian tribe, and therefor eligible for certain rights as sovereign Indian nations. They review, verify, and evaluate groups' petitions, and make final recommendations. As of November 2013 the U.S. OFA lists 344 tribes waiting for federal acknowledgement. Of these, 269 groups have submitted only letters of intent or partially documented petitions, and are not ready for evaluation. Seven petitions under active consideration, while two petitions are ready and waiting for active consideration. The others are somewhere in between.
In Claiming Tribal Identity: The Five Tribes and the Politics of Federal Acknowledgment, Miller (History, Southern Utah University, Cedar City) deals with the issue of federal acknowledgement of "new" tribal entities of the southeastern United States from the point of view of the Cherokees, Chicasaws, Choctaws, Creeks (Muscogees), and Seminoles, known collectively as the "Five Civilized Tribes." In particular focusing on the histories of those five tribes, stories and histories of groups originally from that area who try to maintain or create tribal identity, and other local groups that, for a variety of reasons, are not currently federally recognized and wish to be. These are divided into groups of vetted tribes, contested tribes, and fraudulent tribes for the purpose of organization in the book.
One of the things I find fascinating about this book is how many groups, 68, are trying to gain federal recognition claiming ancestry with one of the Five Civilized Tribes and with part of their name containing Cherokee, Chicasaw, Choctaw, Creek (Muscogee), and Seminole. That's over 20%, and it's easy to see how the Cherokee Nation might want to investigate this and separate out the wheat from the chaff by eliminating the acknowledgement prospects of wannabes and fraudulent tribes. They are also against state recognition as that process tends to not be nearly as rigorous as the federal one, and many of those state "approved" tribes have not continued on to pursue federal recognition, which gives pause. The Cherokee Nation believes that only federally acknowledged tribes should be considered Native Americans, and other's should not. It would be interesting to read more about other tribal nations' points of view on this point.
Mark Edwin Miller has produced a well-documented book worth hours of pondering, and I think it's worth the effort. Now if he would only write a follow-up book on other parts of the country I'd be even more happy.