Jerusalem:
A Cookbook
by Yotam Ottolenghi and Sami Tamimi
TX725.M628 O88 2012
Browsing Books, 2nd floor
Plenty:
Vibrant Vegetable Recipes from London's Ottolenghi
by Yotam Ottolenghi
TX801.O88 2011
Browsing Books, 2nd floor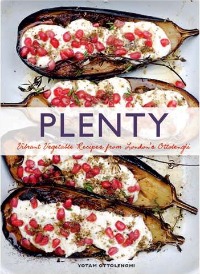 Winter blues got you down? Want to daydream about warm, sunny climates? How about a sensory trip to the Middle East? These two cookbooks by Yotam Ottolenghi, a noted Israeli chef cooking at his restaurants in London alongside his equally talented sous chef, Palestinian Sami Tamimi, are just the ticket to a food and sensory paradise. These two books are among my hands-down, most favorite cookbooks ever. Not only are the photographs of the people, food, and recipes beautiful, but the text is a great read too! Learn about both Palestinian and Israeli food cultures and traditions (hummus wars?) and cook some excellent food while you are at it.
The recipes range from simple (the hummus is fairly easy to make) to complex but all of them are delicious. My favorite recipe is in Jerusalem, Beef Meatballs with Fava Beans and Lemon. This is a perfect dish to make when you want to think about spring! It's full of fresh herbs, fava beans (I've used fresh fava beans, canned fava beans, and even substituted cannellini beans and edamame beans), lots of lemon, and a delicious sauce. It goes well with rice, bulgur wheat, or couscous and the meatballs freeze really well. Every recipe I've tried in these books has been great.
Even if you don't end up cooking a thing from these two books, looking at the pictures will take away some of the winter blues!