Tom Philpott, will talk about "Back to the Future of Agriculture: Steps Toward a Robust Food-Economy and a Sustainable Society" at 7 p.m. on Monday, February 17, in the Irvin L. Young Auditorium. It's the first Spring 2014 Contemporary Issues Lecture.
Philpott cofounded Maverick Farms, an "educational non-profit dedicated to promoting family farming as a community resource and reconnecting local food networks in High Country of North Carolina." He blogs at Mother Jones, and previously wrote for the online environmental site Grist. His writings on food politics also have appeared in Newsweek, Gastronomica, and The Guardian. Philpott serves on the board of directors of Chef's Collaborative, a nationwide group seeking to push the restaurant business in more sustainable directions, and on the Advisory Council of the Sustainable Food Center in Austin, TX.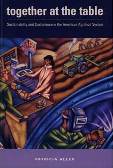 Andersen Library has resources for learning more, such as Food for thought: Sustainability from counter to compost (hearing before the Select Committee on Energy Independence and Global Warming, House of Representatives, One Hundred Tenth Congress, second session, February 26, 2008, available online or in 2nd-floor Federal Documents, Y 4.2:EN 2/F 73) and Together at the table: Sustainability and sustenance in the American agrifood system (3rd-floor Main Collection, HD9005 .A69 2004).
If you'd like assistance with finding additional materials, please ask a librarian.
Andersen Library is a federal and Wisconsin depository library with federal and state government documents on a variety of current and relevant issues available to you in various formats (print, DVD/CD-ROM, online). Check out your government at Andersen Library!