Sichan Siv, former U.S. Ambassador to the United Nations and White House official, will talk about "Asian American Impact on Politics" on Tues., Feb. 18, at 3:45pm in UC 259A. It's part of the Southeast Asian Heritage Lecture Series.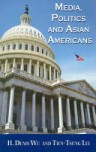 Andersen Library has resources for learning more! Search HALCat for books or videos such as Asian American political action: Suburban transformations (3rd-floor Main Collection, E184.A75 L35 2011), The transnational politics of Asian Americans (3rd-floor Main Collection, E184.A75 T736 2009), and Media, politics, and Asian Americans (3rd-floor Main Collection, P94.5.A75 W8 2009). Search article databases for resources such as "Judy Chu for Congress: A Case Study for Mobilizing Asian Americans and Pacific Islanders for Legislative Campaigns" (Asian American Policy Review, 2010, v.19, pp.49-58) and "Asian-Pacific-American Partisanship: Dynamics of Partisan and Nonpartisan Identities" (Social Science Quarterly, 2009, v.90:no.4, pp.886-910. doi:10.1111/j.1540-6237.2009.00668.x).
More information about Siv is available too. UW-Whitewater students or staff may request Siv's biographical book Golden bones: An extraordinary journey from hell in Cambodia to a new life in America from another UW library using the free Universal Borrowing service. Requested items usually arrive within 2-5 weekdays. Interviews are available online, including "Envoy is now at home in S.A." (2012, Jan. 6), "Interview: Sichan Siv Says Khmer Rouge Sentence Doesn't Match the Crime" (2012, Feb. 10), "On political empowerment: From the refugee camp to the White House, an interview with former UN Ambassador Sichan Siv" (Asian American Policy Review, 2008, vol.17, pp.17-21), an interview video by students of the press team of Global Classrooms conference (2013), and an audio interview for The Vietnam Center and Archive at Texas Tech University (2009, Mar. 12).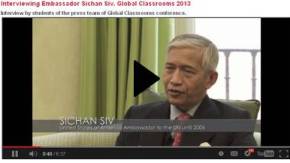 Please ask a librarian for assistance with finding additional materials.