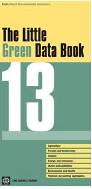 The World Bank's annual Little Green Data Book is an interesting source of data related to the world environment. The 2014 edition will appear in June, but of course the 2013 edition is available now to learn, for example, what percentage of the population in a country has access to "improved water source" or "improved sanitation." You also can see what percentage of a country's land area is agricultural or forested, how many threatened species live in a country, energy use per capita, how fast the size of the urban population is changing, acute respiratory infection prevalence (% of children under five) and diarrhea prevalence (% of children under five), and more. This information is also provided at the regional and world levels; and for low-, middle-, and high-income economies (according to countries' gross national income per capita).
Older editions of The Little Green Data Book, 2005-2012, are available online too at http://data.worldbank.org/products/data-books/little-data-book/little-green-data-book.
If you need other data for research you are doing, please ask a librarian for assistance.