In honor of Children's Book Week, November 12-16, 2007, here's news about your tax dollars at work I'll bet you didn't know. The Federal Government produces coloring books! Actually, state governments get into the coloring book game too.
There's a list of several, with links to them online, at http://govdocs.evergreen.edu/coloringbooks.html, thanks to the government documents staff at Evergreen State College's library. What kid doesn't want to color Smokey's Coloring Book or Woodsy Owl's?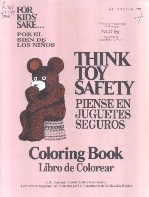 If you do a keyword search of the University Library's catalog for "coloring books" you will get a list, most of which will be U.S. and Wisconsin government publications. Several of the newer entries will have links to them online, but there are several in print in the Library also (they can be checked out, but please photocopy pages to actually color them!). Here are some examples:
Traditional Chippewa life : crafts and customs for you to color (Wisconsin Documents NAT 6/2:C 43/1993)
For kids' sake– : think toy safety coloring book (U.S. Documents Y 3.C 76/3:2 K 54/9/SPAN.)
Save our species : endangered species : coloring book (U.S. Documents EP 5.2:Sp 3)
Discover aeronautics and space : a coloring book for elementary students (U.S. Documents NAS 1.84:118)

The University Library is a federal depository with many federal, state, local, and international documents on a variety of current and relevant issues available to you in print, microfiche, CD-ROM, and electronically. Come check out your government at the University Library!