Stressing a bit? I know, I know, the end of the semester is rushing toward us and there is too much to get done. Aiieee!!!!
Release that nasty stress! There are crayons and coloring pages available near the Circulation Desk that you can use.
Enjoy.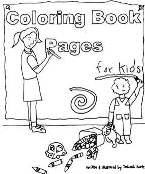 And you can always find other coloring pages online, too, even from government agencies! For example, the U.S. Dept. of Veterans Affairs' National Center for PTSD has coloring book pages intended for children of military parents. Or, color online with "Cents of Color" offered by the U.S. Mint. A Google search like site:.gov coloring pages will find more, whether you're looking for yourself or some children you know (maybe it'll keep them busy while you study!).
Andersen Library is a federal and Wisconsin depository library with federal and state government documents on a variety of current and relevant issues available to you in various formats (print, DVD/CD-ROM, online). Check out your government at Andersen Library!