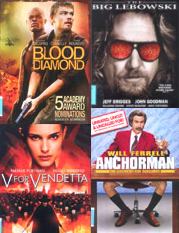 In case you haven't heard, we have movies that you'd actually want to watch outside of the classroom, not just in school. We just received a second batch of popular titles, such as V for Vendetta, The Big Lebowski, Anchorman and Blood Diamond, all ready to go home with you. They're available for checkout for two weeks.
You can find these movies two ways:
Browse the New Book Island on the second floor and the Center Media Collection on the first floor in the call number sections PN 1997 and PN 1997.2.
Search in the catalog for "feature films" AND DVD – and use the 'Videorecording' quick limit.