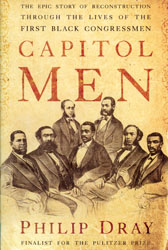 Capitol Men:
The Epic Story of Reconstruction Through the Lives
of the First Black Congressmen
By Philip Dray
E668 .D76 2008
New Book Island, 2nd floor
Yes, today is one historic day. Barack Obama, the first African-American president has taken the oath and now holds the highest office in the nation. To commemorate the occasion, I conveniently stumbled upon this week's featured title about some other famous first politicians.
Dray, finalist for the Pulitzer Prize, resurrects history that is often left out of the textbooks and therefore not common knowledge – the story of the first African-Americans elected to Congress. Though many of you have seen the portrait of the seven of the first sixteen men (featured on the book's cover), you may not have known it. The author takes the reader back to the period just after the Civil War, where the nation had the task of putting a broken country back together again, a time where black and white didn't describe the picture on the television screen. These newly-minted lawmakers, hailing from diverse backgrounds themselves, faced outright discrimination and humiliation during their terms as politicians and faded away as the Reconstruction came to a painful close. The book serves to give these men their rightful place in the chronicles of the era.