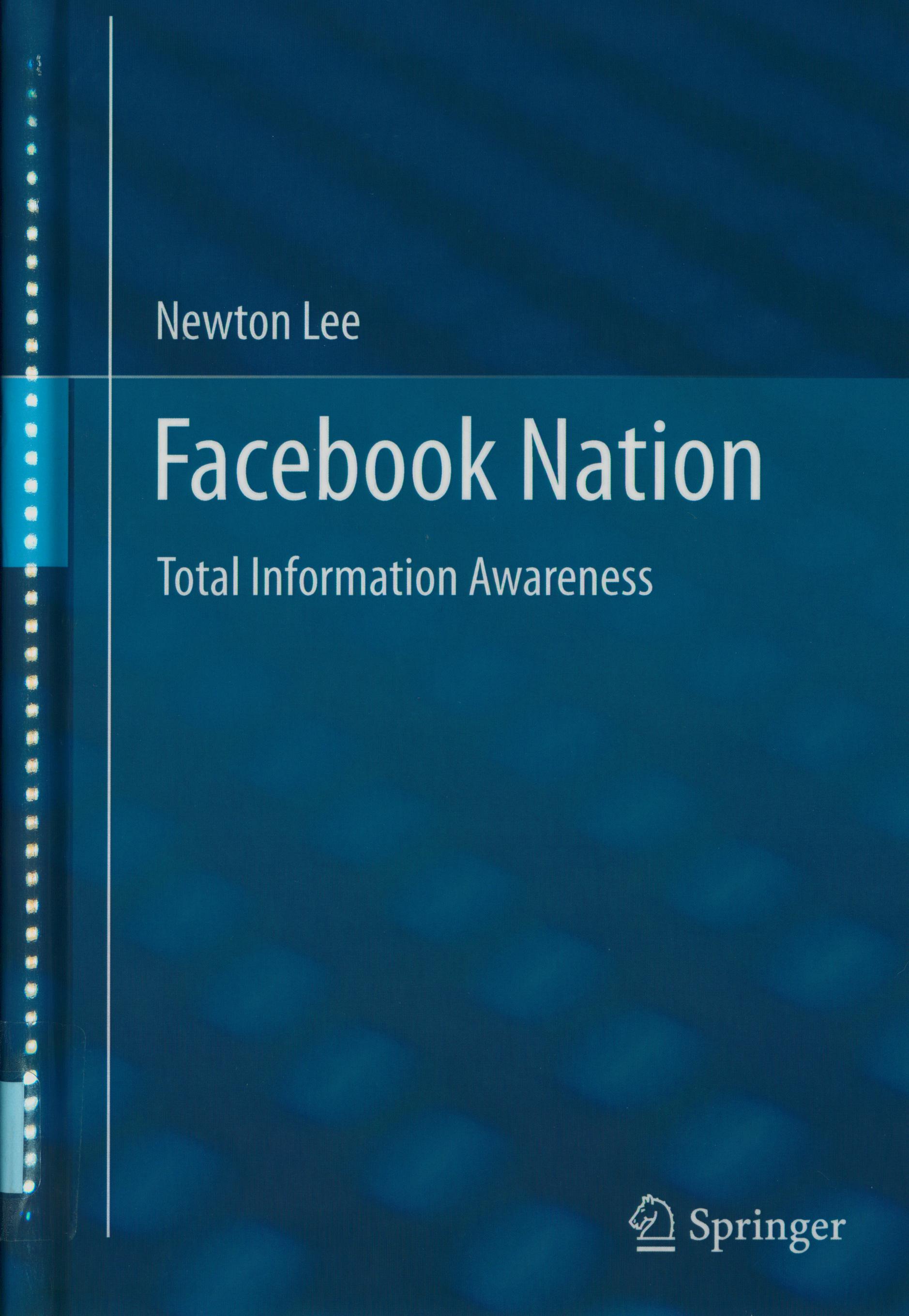 Facebook Nation:

Total Information Awareness
by Newton Lee
QA76.575 .L44 2013
New Arrivals, 2nd floor
This was my second choice for a book this week, as I discovered that Ellen wrote about Superman Versus the Ku Klux Klan: The True Story of How the Iconic Superhero Battled the Men of Hate a mere two weeks ago!
That sounds fascinating, but after digging for a bit I found this one, which is even better.
It certainly seems like everyone around here is on Facebook, from little kids (they're supposed to be at least 13) to college students to grandparents (the oldest Facebook user is 105). In fact, if Facebook were its own nation, in 2012 it would have been the third largest country in the world, after China and India. How safe is it though? How secure? How private? You can limit the viewing of your posts to just yourself, your friends, friends of your friends, or the known world, but does that really work? WikiLeaks founder Julian Assange called Facebook "the most appalling spying machine that has ever been invented."
The author of this book, the multitalented Newton Lee, graduated Summa Cum Laude from Virginia Polytechnic Institute and State University (Virginia Tech) with BS and MS degrees in Computer Science, and later earned an AS degree in Electrical Engineering from Vincennes University. He has worked at places as varied as The Walt Disney Company and the Institute for Defense Analyses. Here he provides an approachable introduction to social media privacy, heavy on the endnotes and quotes, but not so as to be detrimental to the flow of his arguments.
Anyone interested in social media and related technology, whether academically or recreationally, should check out this book. It is full of interesting information and practical knowledge. It provides useful advice on social media related privacy issues in sections such as "Privacy in the Age of Big Data," "The Rise of Facebook Nation," and "Total Information Awareness in Facebook Nation." It starts with President Ronald Reagan's 1984 National Security Decision Directive in the Prologue and ends with George Orwell's dystopic novel 1984 in the Epilogue. Issues and topics addressed include cyberbullying, SOPA/PIPA, facial recognition apps, smart phones, and even Google Easter Eggs.
Are you intrigued, but not yet hooked? Perhaps reading these Google Books snippets will convince you to check Facebook Nation out.
If you've read this book and/or have something to say about it we'd love to hear from you. Just reply below.