Welcome (back) to UWW! Come see us at various Orientation Week events! Here's where we'll be:
Mon., Aug 26, 9:30-10:30am: Involvement Opportunity Fair for UWW employees (Kachel Center)
Mon., Aug 26, 1-2pm: Library Services & Online Resources for UWW faculty & staff (Library Instruction Lab, L2211)
Mon., Aug 26, 5-7pm: Graduate School & Nontraditional Student Orientation (UC Hamilton Center)
Fri., Aug. 30, 3:30-4:30pm: TRANSFERmation in Andersen Library for transfer students
Fri., Aug. 30, 4:30-6:30pm: HawkFest!! for first year students (parking lot off Prince St.)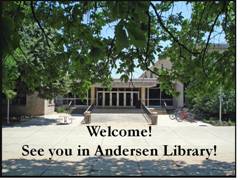 Don't see an event for you? Can't make it? Well, c'mon in, or give us a call or an email and we'll be happy to set up a time to meet with you! Call the Reference Desk at (262) 472-1032 or email refdesk@uww.edu.