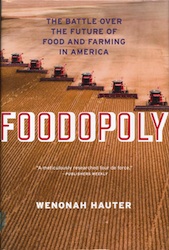 Foodopoly:
The Battle over Food & Farming in America
by Wenonah Hauter
HD9005 .H358 2012
New Arrivals, 2nd floor
Driving south to my native land of Illinois, I passed by quite a few cornfields. Obviously, I could see the green for miles with it being flat and all. All I could think of was what my grandfather would say: "Knee high by the Fourth of July." This week's featured title takes on the topic of agriculture and its potentially bleak future.
Hauter, executive director of the Food & Water Watch and owner of a working farm in Virginia, shares her insights on the current crisis that the country is facing with regards to food supply. While the community supported agriculture movement is helping to mitigate the issue, she focused her attention on the handful of large corporations that control the market on the food that we buy at the grocery store. The author targets their business practices and their army of lobbyists that work to sway the policymakers towards corporate-friendly rules and regulations. This book provides an intriguing look at just how that food on your plate got there, as well as what needs to change to save the family farm.