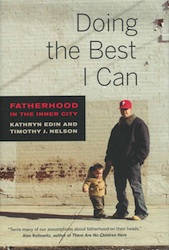 Doing the Best I Can:
Fatherhood in the Inner City
by Kathryn Edin and Timothy Nelson
HV700.7 .E35 2013
New Arrivals, 2nd floor
Every person likes to be recognized and appreciated for their efforts. This last weekend, we celebrated the father figures in our lives with their own day. As any parent would agree, raising children isn't exactly always a walk in the park. This week's featured title shows us a glimpse of what it's like for fathers in urban settings.
Edin and Nelson, both from the Kennedy School of Government at Harvard University, challenge the mainstream consensus about what it's like to be an unwed father in the city. They seek to turn the paradigm on the its head with regards to the difficulties faced by these men in trying to shake the 'deadbeat dad' moniker. The authors detail the hardships that couples face through conception, pregnancy, and the birth of a child, and throughout the child's life. Edin and Nelson infuse their work with over one hundred in-depth interviews with fathers, giving a face to the reality of parenthood for the urban poor.