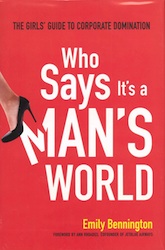 Who Says It's a Man's World:
A Girls' Guide to Corporate Domination
by Emily Bennington
HD6054.3 .B46 2013
New Arrivals, 2nd floor
I don't know if you've seen what's been called an epic smackdown on Fox Newsmen for obvious and blatant misogyny, but it's a pretty good watch. All of this was spurred by a Pew Research Center study that found that forty percent of women with children are the sole or primary breadwinner in US households. With that in mind, this week's featured title contains advice for those "breadwinner moms" and other women on how to take over the boardroom too.
Bennington, a career-transition consultant, shares her wisdom climbing up the corporate ladder. Rather than just your standard "you're a great person!" confidence-building book, the author provide action items for proving your worth as a leader. Looking at the personal skills that one needs to succeed, she outlines the plan to help you achieve those goals of taking over the world… er, the company. Written in a very personable and humorous tone [the introductory chapter is "Ding, Dong! The Bitch is Dead"], Bennington's book is sure to entertain and empower you at the same time.