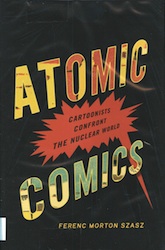 Atomic Comics:
Cartoonists Confront the Nuclear World
PN6714 .S97 2012
New Arrivals, 2nd floor
Last week, we got a comment on the New Stuff Tuesday entry asking whether or not we buy comic books. While we have an entire collection of graphic novels, we also purchase books that talk about comic books. Look what I found this week!
Who says that the funny pages are only meant to entertain? Szasz, a forty-three year veteran professor at the University of New Mexico, studies the impact of comics over time, and in particular during the Cold War era. Cartoonists took advantage of the world events to serve as educators about the complex issues involved with nuclear warfare, and as Szasz seeks to demonstrate, pretty effectively. The author examines all aspects of the graphic representations of the treatment of the pro-atomic energy and later anti-nuclear movements, mainly from a US perspective, and its effects on public opinion. This book serves as an excellent addition to the scholarship on the atomic culture of the mid-twentieth century.