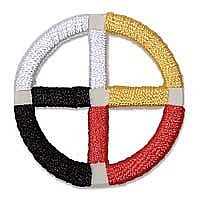 Come learn more about yourself and the world around you! The Medicine Wheel is representative of Native American spirituality. As we grow, we change like the seasons, passing through the sections of the circle, learning from each. The medicine wheel embodies this idea and symbolizes it for many tribes. Here's your chance to make one!
During this two-hour Native Pride Workshop you will create a medicine wheel of traditional or Warhawk colors.
This workshop is open everyone. Preregistration is not required. If you need special accommodations, please contact Dona Yahola at yaholad@uww.edu.
Date: Tuesday 04/23/2013
Time: 12-2 pm
Location: UC Warhawk Connections Center
Presented by Professor Dona Yahola – Ojibwe
Sponsored by UW-Whitewater's Native American Cultural Awareness Association (NACAA)