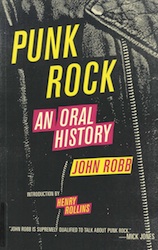 Punk Rock:
An Oral History
ML3534 .R545 2012
New Arrivals, 2nd floor
With springtime on its way, you can now go for a drive on the open road with the windows down and the music way up. This week's featured title talks about one type of music that is best experienced at full volume.
Robb knows a thing or two about punk rock because he lived it himself. The brain behind the Membranes, an influential band of the genre, Robb shares his knowledge of the music from the early stages of its roots in the 1950s and 1960s to its explosion in the 1970s. The author goes straight to the source and gets viewpoints from all the big names on what it was like to be a part of the punk scene.